Turkey Basics: Safely Thaw, Prepare, Stuff, and Cook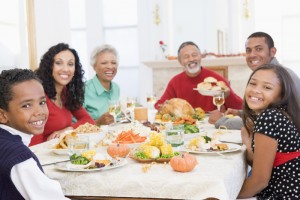 When preparing a turkey, be aware of the four main safety issues: thawing, preparing, stuffing, and cooking to the adequate temperature.
Safe Thawing
Refrigerator Thawing Times

A thawed turkey can remain in the refrigerator for 1 or 2 days before cooking.

4 to 12 pounds — 1 to 3 days

12 to 16 pounds — 3 to 4 days

16 to 20 pounds — 4 to 5 days

20 to 24 pounds —5 to 6 days

 

Cold Water Thawing

Allow about 30 minutes per pound.

Submerge the wrapped turkey in cold tap water. Change the water every 30 minutes until the turkey is thawed. Cook the turkey immediately after it is thawed.

Cold Water Thawing Times

4 to 12 pounds — 2 to 6 hours

12 to 16 pounds — 6 to 8 hours

16 to 20 pounds — 8 to 10 hours

20 to 24 pounds — 10 to 12 hours

Microwave Thawing

Follow the microwave oven manufacturer's instruction when defrosting a turkey. Plan to cook it immediately after thawing because some areas of the food may become warm and begin to cook during microwaving.
Safe Preparation
Bacteria present on raw poultry can contaminate your hands, utensils, and work surfaces as you prepare the turkey.. After working with raw poultry, always wash your hands, utensils, and work surfaces before they touch other foods.
Safe Stuffing
For optimal safety and uniform doneness, cook the stuffing outside the turkey in a casserole dish. However, if you place stuffing inside the turkey, do so just before cooking, and use a food thermometer. Make sure the center of the stuffing reaches a safe minimum internal temperature of 165°F.
Safe Cooking
Set the oven temperature no lower than 325°F and be sure the turkey is completely thawed. Place turkey breast-side up on a flat wire rack in a shallow roasting pan 2 to 2-1/2 inches deep. Using a food thermometer check the internal temperature at the center of the stuffing and meaty portion of the breast, thigh internal temperature should reach 165°F
Fun Thanksgiving Facts
When the guests around your Thanksgiving table are busy stuffing their bellies today, here's one way to break the lull in conversation: dazzle them with some tasty turkey trivia.
The first Thanksgiving celebration lasted three days.
The pilgrims didn't use forks; they ate with spoons, knives, and their fingers.
Abe Lincoln declared Thanksgiving a national holiday, it was thanks to the tireless efforts of a magazine editor named Sarah Josepha Hale. Her other claim to fame? She also wrote the nursery rhyme, "Mary had a Little Lamb."
In 1939, President Roosevelt proclaimed that Thanksgiving would take place on November 23rd, not November 30th, as a way to spur economic growth and extend the Christmas shopping season. That was changed when Congress to passed a law on December 26, 1941, that Thanksgiving would be held on the fourth Thursday of November every year.
The first department store to hold a Thanksgiving parade was: Gimbel's
The annual Macy's Thanksgiving Day Parade tradition began in the 1920's.
Which balloon was the first balloon in the 1927 Macy's Thanksgiving Day Parade: Felix the Cat
In the US, about 280 million turkeys are sold for the Thanksgiving celebrations.
California is the largest consumer of turkey in the United States.
Although, Thanksgiving is widely considered an American holiday, it is also celebrated on the second Monday in October in Canada.
TV dinners have Thanksgiving to thank. In 1953, someone at Swanson misjudged the number of frozen turkeys it would sell that Thanksgiving — by 26 TONS! Some industrious soul came up with a brilliant plan: Why not slice up the meat and repackage with some trimmings on the side? Thus, the first TV dinner was born!
The average weight of a turkey purchased at Thanksgiving is 15 pounds.